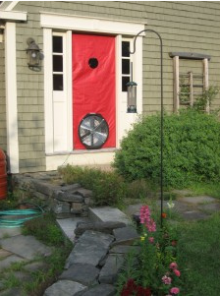 Blower door testing is a way to test the "leakiness" of your home. By depressurizing your home and measuring the rate at which air infiltrates through imperfections in the building envelope, we're able to assess how much energy (and money) is escaping through air leaks, and how much you're likely to save by fixing those leaks. As part of this process, we will inspect the house with a smoke stick and/or thermal imaging equipment to pinpoint potentially hidden air leaks (making it much easier to address them when the time comes to get to work). We also offer blower door testing as an isolated service to test the effectiveness of improvements that have been made to a home, and to provide homeowners and contractors with a roadmap to further improve a home's efficiency moving forward.
Finally, blower door testing with a manometer can identify potential issues with indoor air quality by providing information on air exchange rates or air entering the living space from poor sources such as garages, crawl spaces and attics.
We're commited to making your home more comfortable. Contact us today!