Alpen Fiberglass windows are the gold standard for energy efficiency and performance. You can have that rich interior wood look along with the thermal performance and maintenance free exterior that only fiberglass can deliver. The thermal performance of our fiberglass windows from Alpen exceed that of other Energy Star windows by up to 300%. 300% more energy efficient means much greater comfort from your window investment!For more information on the 725 series fiberglass windows from Energy360 and Alpen High Performance Products []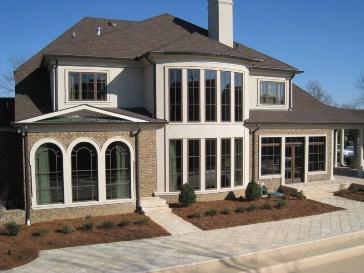 Alpen Windows combine an advanced glass package with superior fiberglass framing systems to achieve high insulation performance across the full-frame — not just measured at the center of glass.
"Tuned" to your home's unique location and solar exposure: Our tuning expertise and glazing options can ensure the right amount of heat to warm or cool your home for thermal efficiency and maximum comfort..

Custom made to match your home's distinctive architecture: available in multiple sizes, styles, shapes and colors and stainable wood veneers, Alpen High Performance Windows are custom made to meet your home's exact specifications and style and at no extra cost.

Traditional classic wood window aesthetic: offering the beauty and look of classic wood windows, Alpen's Fiberglass Series offers custom stainable interior wood veneers and classic lines and grids profiles that match the feel of wood windows but without the problems, weight and maintenance.

High strength, low conductivity fiberglass frame: fiberglass offers the durability, better thermal performance, and lower embodied energy compared to vinyl, aluminum, and wood framing materials.

Clean, contemporary hardware: engineered to resist to a wide range of corrosive materials, our unique, clean hardware design does not obstruct views and reduces the tendency of the window to "walk" in buffeting wind conditions.

Multi-seal weatherstripping design: conforms to the rain screen principle, for air and water tight seals and excellent air tightness.

Fiberglass insect screen: easily removable, non-glare, fiberglass, insect screen will not rust, corrode, stain or impede visibility.

UV protection: engineered to block up to 99.5% of harmful UV rays, our advanced glazing systems reduce fading and interior damage and contribute to a healthy indoor einvornment - all without obstructing natural lighting and visibility.

Lifetime warranty: all Alpen High Performance Windows are covered by a limited lifetime warranty[].
We're commited to making your home more comfortable. Contact us today!