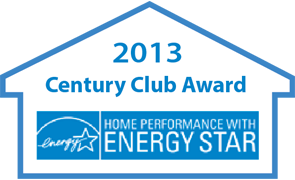 Looking for a way to enhance the marketability of your home in addition to improving the energy efficiency and comfort? Energy Star Certification from Home Peformance with ENERGY STAR is a powerful way to distinguish your home(s) from the competition. In an era of turbulent, but generally increasing, energy costs, more and more homebuyers are becoming attuned to the benefits of an energy efficient home. Home Performance with Energy Star, a certification that falls under the umbrella of the EPA's well-known Energy Star brand, is a powerful quality assurance program that ensures that a home is energy efficient, safe, and healthy.
As a certified Illinois Home Performance contractor, Energy360 Solutions has received the 2013 Century Club award recognizing us as one of only 5 contractors in the state of Illinois to have received this distinction. These companies are among "180 contractors nationwide that used a whole-house approach to improve the energy performance of 100 or more homes in 2013 and successfully fulfilled the requirements of their local Home Performance with ENERGY STAR programs." These companies greatly augmented the Illinois Home Performance program in 2013 by performing large quanities of work while consistently maintaining excellence in customer service and quality service delivery
Contact us for more information about the Energy Star for Homes program, or to schedule a consultation today.